read about and listen to
Healthcare services for everyone
SyktFrisk episode 25
- from the specialist health service
Press play and listen to nurse at Helseforum for kvinner (Women's Health Forum), Azra Feraget, and special adviser at Oslo University Hospital, Lixian Cheng, in conversation with Linda Schade Andersen, about how Norwegian hospitals facilitate equitable health services.
Publisert 20. desember 2022 | Faglig ansvarlig spesialrådgiver Lixian Cheng, Oslo universitetssykehus | Medisinskfaglig ansvarlig Mikkel Høiberg, endokrionlog, Sørlandet sykehus
All patients have the right to participate in decisions abut their health care, and receive information about their own health and treatment. Not speaking Norwegian or not knowing how the healthcare system in Norway works can make it harder take part in this. In this episode, we share information that can be useful for hospital patients who are not from Norway, or who have a different language, cultural or religious background. We hope that this information can be useful for both patients themselves, as well as their families and other carers.
The episode is available in Norwegian and English.
Information is not provided until it is understood
It is normal to be scared and uncertain when you fall ill and have to receive treatment in the healthcare system. Because you are in a stressful situation and because medical language can be difficult, it is common not to understand everything that is happening or the information that you receive. If you in addition do not speak Norwegian as your first language, it can be extra challenging.
Healthcare personnel would like you to ask if there is anything you are unsure about or need to have explained. Good communication makes us feel more secure, and often we simply need to have information repeated. This applies to all patients, including those who speak Norwegian as their first language. It is very important for both you and the health care professionals helping you that you understand health information, so that you can take medication correctly and understand what to do after you have been discharged from hospital.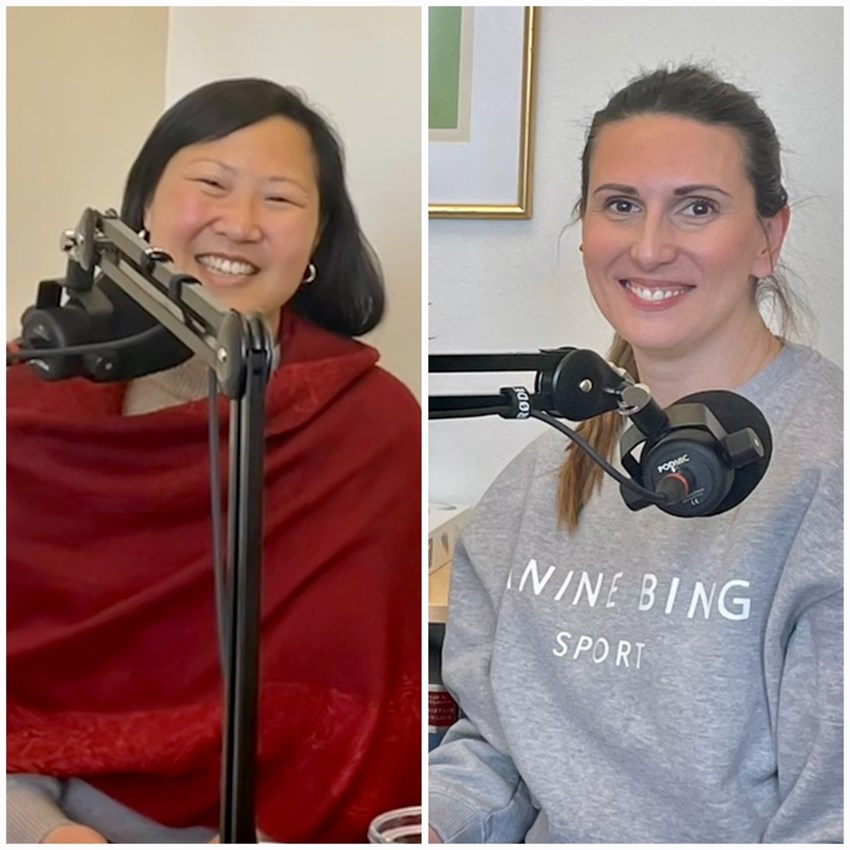 Lixian Cheng (left) is a special adviser at Oslo University Hospital, where she works to increase knowledge at the hospital about how health staff can offer good health services to everyone - regardless of background. Azra Feraget (right) is a nurse at Health Forum for Women, which is a non-profit organization for girls and women of all ages with backgrounds from all over the world.
Hospitals provide interpreters if you need one
Everyone has the right to receive information about their own health and treatment in a language they understand. This means that the hospital arranges an interpreter if you need one to communicate with healthcare personnel. You can also use an interpreter even if you speak and understand Norwegian well in your everyday life, but have challenges with the Norwegian used for illness and treatment, which can be very complicated. Sometimes you need to say things in your own language,in order to express yourself accurately or put into words your feelings and wishes. It is the healthcare professional's responsibility to arrange for an interpreter if you need one, and the hospital pays for it. Let healthcare personnel know if you need an interprete. Relatives and other carers can also get an interpreter if they need it.
As a general rule, friends and family should not be used as interpreters. Friends and family should be able to support you as a patient, and avoid the extra stress of interpreting at the same time. According to Norwegian law, healthcare personnel are required to use qualified interpreters who have done professional training or education within interpreting. This is important to make sure that both healthcare personnel and patients receive accurate and correct information. Interpreters say exactly what you and the healthcare staff say to each other. Interpreters are not allowed to say anything else or change anything that has been said, or to express their own opinions. You can therefore be sure that the interpreter is a neutral person who translates correct information from healthcare personnel. Interpreters also have strict confidentiality, which means that they are not allowed to share the information with anyone else. As a neutral person in the conversation, they should also not have any relation to you or your case. Using an interpreter is safe.
What's important to you?
Patient participation is an important principle in Norwegian healthcare. Patient participation means that you have the right to be involved in making decisions about your treatment and care, and that you, together with health care professionals, decide what is right for you. Healthcare personnel would like to know what is important to you, and what you think may be important for your treatment. This also applies to things other than medicine and treatment. What gives you strength and hope? What can help you get well? What can make your time in the hospital better and more comfortable?
Religious belief or a life stance, for example, may be important for some patients. If this is important to you, let the healthcare staff know so that they can help make arrangements for you to practice your religion or philosophy during your hospital stay alongside your medical treatment. If you have special needs when it comes to food, it is also important that you speak up. Hospitals are generally very good at adapting meals for different diets, such as kosher, halal, vegetarian, etc.
For many, being in hospital can lead to increased stress, and you may need someone to talk to. The hospitals have, or can contact, various resource persons with whom you can talk to about your concerns and your situation, or if you have spiritual or existential questions that arise in connection to your health situation. The vast majority of hospitals have hospital chaplains, who can talk to anyone regardless of background. Some hospitals also have "samtalepartnere" or representatives from other religious or life stance communities that they can contact for you. They can also help you get in touch with psychologists, social workers and other resource persons at the hospitals if necessary.
The Health and Social Services Ombudsman – Pasient- og brukerombudet
If you experience that you did not get the help or treatment that you feel you should have, it is important to give feedback to the hospital. If you need help with this, you can contact the Health and Social Services Ombudsman, which is a public office, where patients and relatives can get free help and advice. They can help you if you have questions about your case, but also if you have general questions about health rights and health services. Everything you talk about with the ombudsman's office is confidential, and you can even contact them anonymously if you wish. They can also arrange for an interpreter if you need one when meeting with them.
Don't be afraid to give feedback if you experience something that isn't right. It may be something healthcare personnel are not aware of. The hospital needs your feedback in order to improve.
Links:
Diversity and equal health services/Mangfold og likeverdige helsetjenester (Norwegian)
The Health and social Services Ombudsman: Pasient- og brukerombudet (Norwegian)
Samtalepartner om tro- og livssyn – Oslo universitetssykehus (oslo-universitetssykehus.no) (Norwegian)